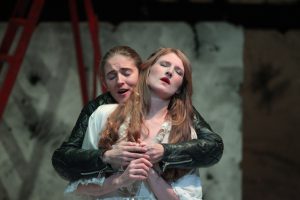 I Capuleti e i Montecchi (Capulets and Montagues) - Bellini
In this lesser-known opera of Romeo and Juliet there are 5 principal parts and plenty of chorus work.  Originally it was written mainly for an all-male chorus, but this has been adapted for SATB.  It was performed by Guildford Opera in 2015.
Vocal score £22, chorus score £15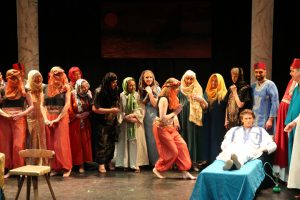 This English version of Bizet's one-act comic opera is based in part on 19th century translation by Joseph Bennett, but a lot has been rewritten.  There are 3 principal singing roles and good chorus parts, which have been adapted for SATB.  It was performed by Guildford Opera in 2016.  The dialogues are included in the vocal score.
Vocal score £15, chorus score £8
This delightful opera was performed by Guildford Opera in 2017 and won the NODA award for the best opera in the South-East Region.  There are 7 principal singing roles and good chorus work.  The dialogues are included in the vocal score.
Vocal score £22, chorus score £15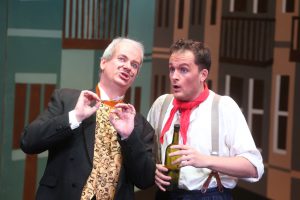 L'elisir d'amore - Donizetti
This ever-popular comic opera was performed by Guildford Opera in 2008 and again in 2008.  There are 5 principal parts and excellent chorus work.
Vocal score £22, chorus score £15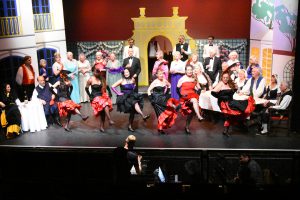 The Merry Widow - Franz Lehar
This ever-popular operetta was performed by Guildford opera in 2021.  There are 5 main principal roles and good chorus parts.  In the Guildford Opera production this was set entirely in Hanna Glawari's garden in Paris in the 1990s.  The words for this and for a setting in the early 1900s with Act I in the Pontevedrin Embassy are both given in the vocal score and libretto.
Vocal score £22, chorus score £15, libretto £5 
An orchestral reduction for flute/piccolo, oboe, clarinet, bassoon, horn, piano and double bass has been prepared and is available for hire.  Price available on request.  (Please note this is not compatible with the Park/ Hamner amateur version.)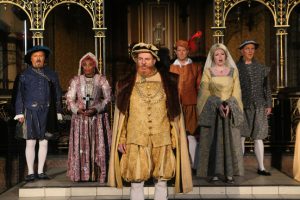 In its day this was as popular as Saint-Saens' Samson and Delilah, but is rarely performed now, possibly because the full version is very long.  This version takes the essential parts of the plot and simplifies the chorus parts.  There are 9 principal parts and good chorus work.  It was performed by Guildford Opera in 2019 and won the NODA award for the best opera in the South-East Region.
Vocal score £22, chorus score £15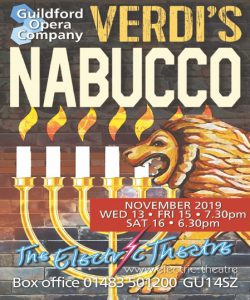 Verdi's first successful opera, which continues to have great success these days.  There are 8 principal parts and excellent chorus work, including the chorus of the Hebrew slaves.  It was performed by Guildford Opera in 2019.
Vocal score £22, chorus score £15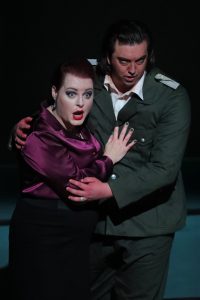 A great dramatic opera.  There are 6 main principal parts, a further 4 minor singing roles and excellent chorus work.  It was performed by Guildford Opera in 2017.
Vocal score £22, chorus score £15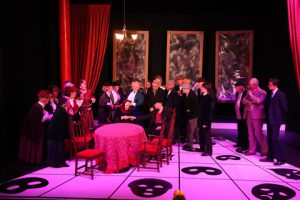 In this version of this great Verdi opera, the chorus has been adapted to make it more suitable for SATB.  It is available in either the Boston version (with Riccardo) or the Stockholm version (with Gustav).  There are 10 principal parts and excellent chorus work.  It was performed by Guildford Opera in 2018.
Vocal score £24, chorus score £15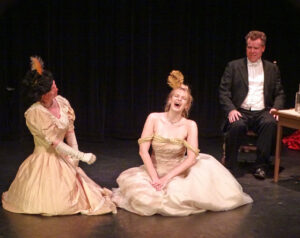 In this version, in line with the German original but unlike English versions by Phil Park and Ian Gledhill, the chorus does not appear at all in Act I (the Eisenstein's apartment) and nor in Act III (the prison) apart from the finale.  Instead, the chorus sings the overture (or most of what is singable) and with Eisenstein and Falke act out the abandonment of Falke in his bat costume.  There are 8 main principal roles, 3 minor roles (largely spoken) and, with the inclusion of the overture, good work for the chorus.
Vocal score £22, chorus score £15, libretto £5
Please note that there are two further operas in English being prepared.
Faust – Gounod
Currently being revised available later.
Cinderella (La Cenerentola) –  Rossini
Available after performance in Spring 2023